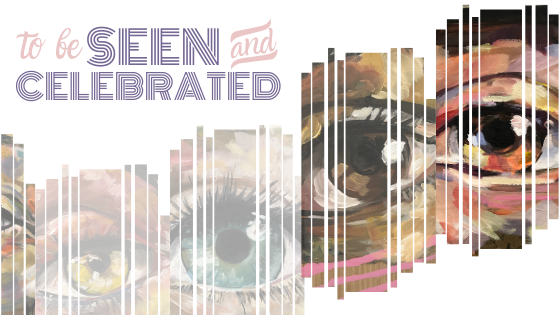 ---
ANNOUNCING: TO BE SEEN AND CELEBRATED, 
the latest Bree Stallings experience...
---
The Big Idea and a Big Thank You: 
I'm so excited to tell you about my latest project, "To Be Seen and Celebrated". And to thank The Metropolitan Charlotte, who has so graciously offered to host in their "Hole In The Wall" space (adjacent to Hickory Tavern, with ample free parking in the Trader Joe's lot, accessible entrances and ramps, conveniently located along the Sugar Creek Greenway on the bus route). I am painting 100 customized commission pieces: 8 x 8 inch panels of eyeballs (like the ones I've attached here), all to be displayed as part of a community exhibition, as a grid of 100 eyes overlaid upon a mural. The exhibition will begin with an opening party you don't want to miss, on Friday, January 31st, 2020. Everyone is invited to a night of levity, dance and celebration. Throughout February 2020, we will host two workshops rooted in personal development, growth, and articulation in the creative process, and we'll be opening the space for esteemed community members to host meetings, events, and workshops. 
The event will culminate in an intimate closing reception on Friday, February 28th, 2020, where the purchasers of the commissioned eye paintings will be able to come, once again, celebrate their loved ones, and take their pieces home. Best of all, your commission will result in showing love to our friends in Charlotte's historic, and historically underserved Brookhill Community. A percentage of all proceeds will go to offering basic and necessary ocular care, a gift near and dear to my heart, as an artist and (more on this later...)
For the opening night, the Metropolitan Charlotte is giving me access and in-kind support to host a FUN ASS PARTY to kick off a month devoted to being seen and celebrated. I'm talking the whole 9 yards: DJ, catering, and photo area with a professional photographer. 
And...the big idea... as part of this sweet ceremony/party, linking celebration, art, and giving back, you'll surprise honorees by bringing them to witness their eye (or an eye that holds intense meaning to them) as part of a massive grid of 100 eyes, all belonging to someone with us now or someone who has moved on, and still resides in our hearts. 
The Reason: (You)
For those of you who follow my work, it's my most sincere hope it's clear that love for you and from you- my community- that inspires my work. In the spirit of the holiday season and Love Month, and in celebration of you, our neighbors, heroes, lovers, admirers, and all you honor and cherish, this year, I'm doing something a little out of the box. 2019 has a been a whirlwind of growth and brought with it national opportunity: opportunity that wouldn't have been possible without you. In gratitude and as a demonstration of my commitment to you and keeping my work accessible, instead of the usual Christmas commissions, I'll be offering a unique opportunity to own a customized commission at a much lower price point. Beyond that, an opportunity celebrate and gift yourself or a loved one, to be a part of a showcase/ event/ experience of significance and impact, and to do some good for friends. I am painting 100 customized commission pieces: 8 x 8 inch panels of eyeballs (like the ones I've attached here). 
Logistics (+):
Let me personally invite you to join us in this multifaceted/ showcase/event/fundraiser/party, and to own or gift a commissioned and personalized Bree Stallings signature piece. You'll be joining me in amplifying the heart of the project: infusing joyful events into a Charlotte arts scene that has taken a beating with funding arguments, and low social/economic mobility. All sales will process through our one-stop-shop, at website: www.tobeseenandcelebrated.com. Here, you can commission (1) or more (one for each child, sibling, parent, etc) of the limited (100) panels, upload a photo of an eyeball (yours or a loved one's), "In Honor Of,"/"In Memory Of"/"In Celebration Of", write a little blurb about the inspiration and person/ personality behind the piece, and use the online portal to complete payment. 
The Big Give Back: 
Eyesight is an important issue for me, as I suffer from generational genetic macular degeneration and struggled as a child, who didn't have access to the glasses, prescriptions and exams I needed. As a full-time visual artist, you can imagine my gratitude for having the resources to care for my vision, today. Now, I want to pay it forward, and create impact by modeling person-to-person fundraising that is specific, actionable, and impactful, with a quick return. Your participation will be raising money for eye exams and glasses for the most residents possible in the Brookhill Community. Brookhill is one of Charlotte's oldest, historically Black and historically under resourced neighborhoods, and home to some of my favorite people and new friends.
The Low Down: 
Please join me in sharing the good word, getting excited, and celebrating the love in our lives and communities. Also, please consider adopting an eye painting, sponsoring vision resources for Brookhill Village residents, and showing up to dance. As always, remember to take time to See others and To Be Celebrated, as I See You and Celebrate you. 
xo,
-B