Voted "Best Art Show of 2019" by QC Nerve.
Nestled at the crux of Charlotte's rapidly changing South and West side communities, a co-working and gallery space serves as a hub for the multi-disciplinary artists of the city: C3 Lab, located at 2525 Distribution Street. In the extended transitional gallery space, on April 5th, Bree Stallings hosted her second solo exhibition "Where I'm From". This work delineated from her current work and focuses on her new practices around installation and experiential creation. The work, installed inside a 6,000 square foot former trucking warehouse, will explore the places in which she's lived: her current home now (in the first year she's ever lived alone), the childhood homes she was raised in (none of which still exist or belong to family through foreclosure, and a lack of generational wealth), where she lived when her parents were in-between housing, and more abstractly, the primal areas in which we all live: her own body and her mother's body.
You enter the space from a loading dock. Along the floor, there is a poem winding through the space, leading you through the exhibition. As you navigate through the space, there will be cylindrical "viewing stations" hanging from the rafters each with a small slit for eyes and ears to look inside and see miniature installations on top of speakers playing the recorded stories of her family. Along the edge of the room, there are huge sheets of fabric hung between the poles dividing the space, each printed with a photograph of one of her family members: the migrant mother from Japan (her grandmother), the red clay potter (her grandfather), and the ones without (her parents). On the back edge of the room, a "wishing wall", a length of fishnet from which will hang hundreds of her family's mementos, photos, letters, secrets and stories. It will be invited for the show participants to do the same, an altar of sorts. Between the viewing stations, there are vintage windows, also hung from the rafters, like a family tree, collaged upon with images of her family members, poems and other small, forget-me-nots.
For the opening night, world renowned poet and spoken word performer Jay Ward performed his one-man show "Things I Would Say" about growing up being biracial in the South. While the exhibit is on view, the Harvey B. Gantt Center for African American Arts + Culture paired with Alvin C. Jacobs (photographer and resident artist of the "Brookhill Village" exhibition) will host a History of Housing: Displacement and Reclamation. This and other events supported the thematic message of the exhibition as an integral working stage for community discussions exploring themes of redlining, homelessness, poverty and more.
Secrets Of A Charlotte Kid: A Pattern of Radical Honesty
Behailu Academy's Modern Art History and Acrylic Painting Spring 2018 Class
Artist's Statement from Lead Teaching Artist, Bree Stallings
I began this project with my students inspired by the repetitive mark-making techniques of UK-based painter Roanna Wells, who specializes in inviting the audience members in to participate and add marks to a growing composition and Japanese artist Yayoi Kasuma, who allows her meditative practice of painting polka dots to provide her balance and sanctuary from the fraughts of her mental illnesses.
Having done helped with this exhibition in the previous year, I saw the amazing work that my kids were creating and was excited about the ways they were able to explore tough issues through their artwork. Still, I spend about 25 hours a week with the students outside of class, and continuously realize that their truest, deepest issues weren't surfacing in their work. The things they bring to us in person, to deal with together, weren't being explored on paper or canvas. The promise of an end-game exhibition kept some of their prompts unexplored or just on the surface.
Over the course of 10 weeks, two classes of 6 students were asked to count back from the previous week to the day of and think about, day by day, what issues did they witness, experience or participate in? They then anonymously placed their colored marks on the canvas, row by row, week after week. At the end of our session, over 800 individual marks represented the issues the 12 students encountered daily.
I thought, what kind of radical honesty comes from anonymity? What can the students learn about themselves, and each other (in our small trusted group where we could see each other's answers)? What was more disheartening: seeing a student with a very similar issue train every week or one who experienced wildly different weeks time after time? What happens when we give them space to be reflective on the things that happen to them, or they choose to engage in, over the course of a semester? Will they find power over their personal patterns, or the patterns of their families and communities?
Colored Mark Map Key:
(as defined by the students)
Tobacco (Dirty Yellow)
Smoking cigarettes, e-cigs or a hooking, dipping, using cigars and cigarillos...
Financial Issues (Bright Green)
Hearing household members worrying about money, knowing bills are past due, having utilities shut off, not knowing where your next meal was going to come from, etc.
Abuse & Violence (Red)
Watching, experiencing or participating in domestic violence, getting into or watching fights at school, feeling physically unsafe in a space...
Sexual Abuse (Pink)
Witnessing, experiencing or participating in sexual assault, unwanted sexual advances, molestation or rape.
Alcohol Abuse (White)
Dealing with a household member's choice to drink excessively, feeling pressured or participating in underage drinking.
Marijuana (Dark green)
Witnessing or participating in smoking or consuming marijuana illegally.
Addictive Drugs (Blue)
Witnessing, experiencing or participating in doing "harder" drugs such as psychoactive drugs, opiates, heroin, meth, cocaine, crack, etc.
Mental Health Issues (Purple)
Dealing with your own or being directly affected by someone's struggle with mental health issues including anxiety, depression, bipolar disorder, etc.
Other Obstacles (Orange)
Other issues that did not fall under the given categories.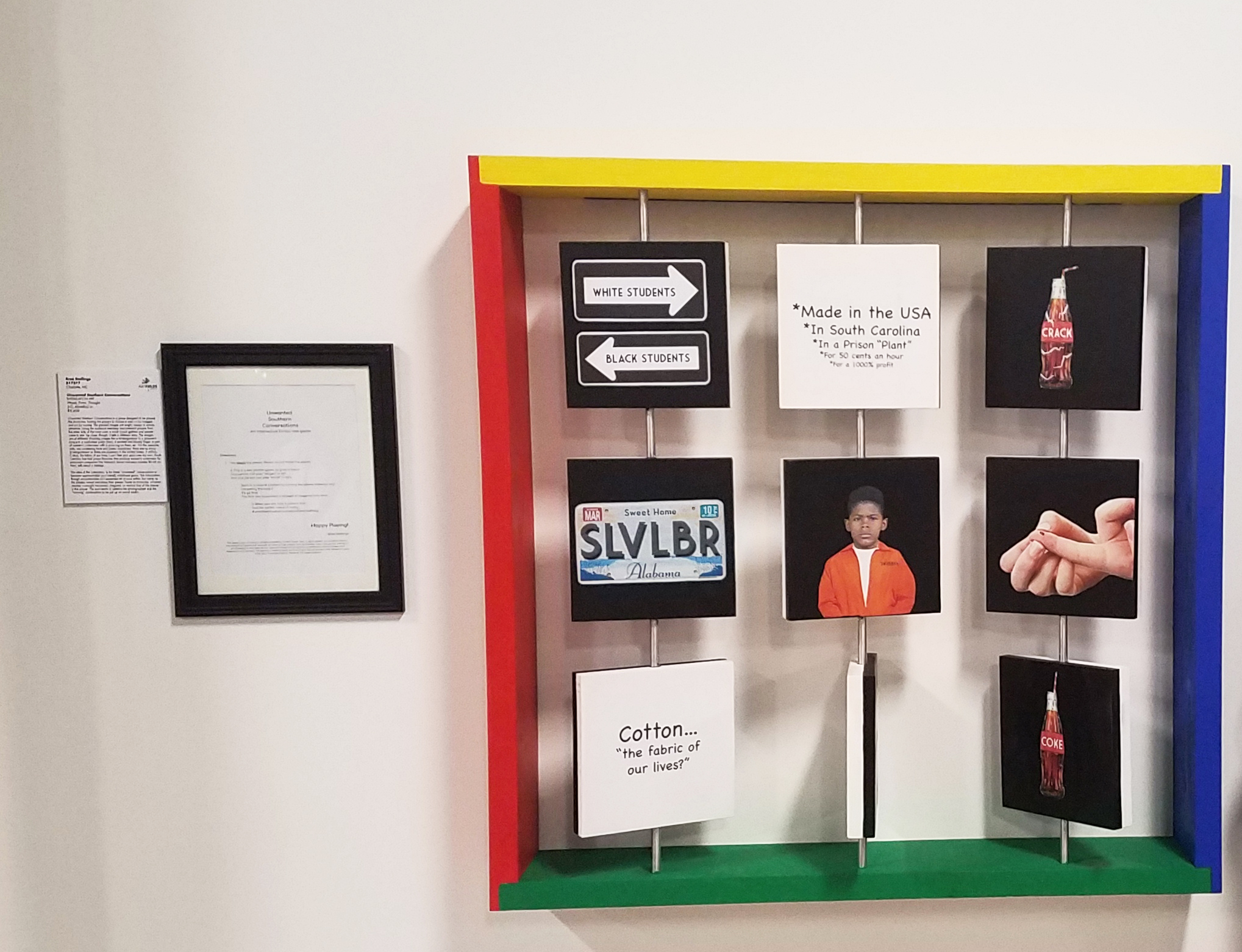 Unwanted Southern Conversations: An interactive tic-tac-toe game
Directions:
Yes, touch the pieces. Please do not break the pieces.
This is a two-person game, so grab a friend.
One person can play "images" or (x)'s
And one person can play "words" or (o)'s,
Start in a neutral position by turning the pieces sideways and refreshing the board.
X's go first.
The first one to connect a straight or diagonal line, wins!

When you win, take a picture and
Post for added research using
#unwantedsouthernconversations hashtag.
Happy Playing!

--Bree Stallings
This game is part of a larger conceptual exhibition called "Tough Talk", in which players are invited to interact with playground games that deal with sensitive or heavy topics such as privilege, class, race, gender and more. I am interested in what ways we can approach these factual subjects as adults with different biases, lived experiences and opinions. Though this is made of wood, paint and resin, the conversation that follows the game is the most important medium. Please let the ripple continue.